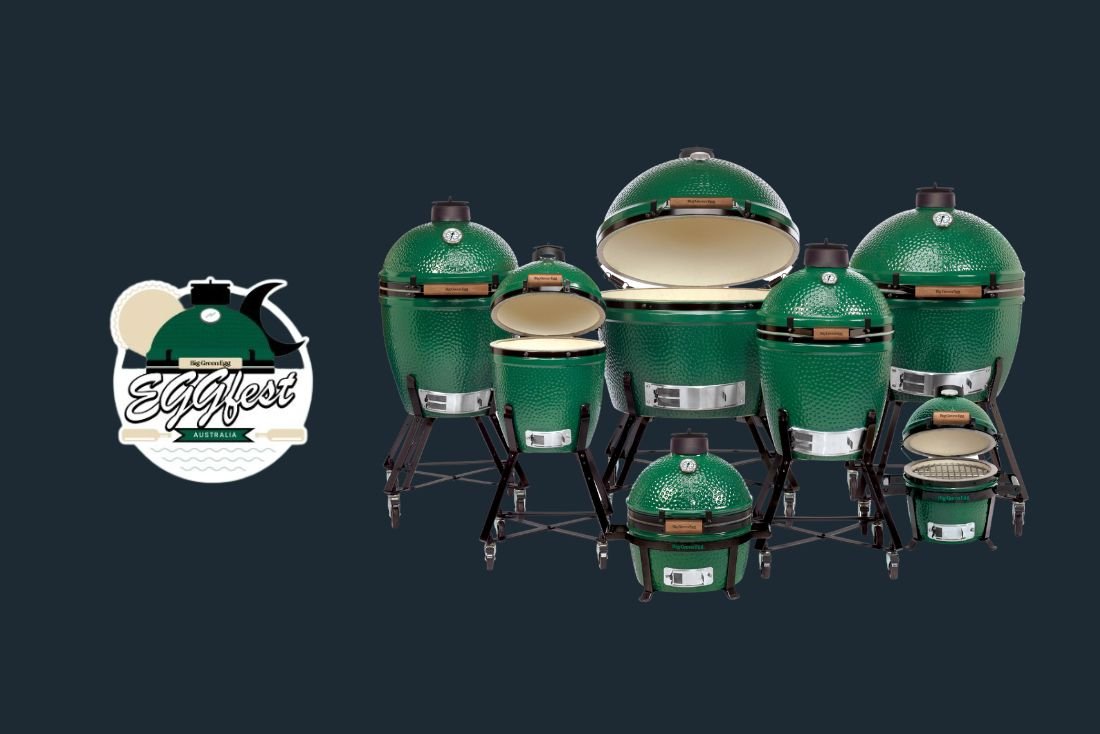 Big Green Egg - EGGfest Event
You Are Invited
To The First Australian
EGG

fest At Smoked!

 
Join us for a day of Fun, Food & BIG prize giveaways!
Event date: Saturday 21st October
Time: 10am-3pm
Location: Smoked BBQ Co. 2082 Gold Coast Hwy Miami
On The Day
We are excited to announce we will be hosting the first Australian Big Green Egg - EGGfest at Smoked BBQ Co! On the day enjoy:
Smoked & Seared

EGGfest

- A variety of proteins will be smoked and reverse seared using a variety of eggs to showcase their versatility including, Chicken thighs, Lamb racks, Sausages, Smashed burgers on milk buns, Beverage's & much more for customers to sample all free and on us!
Egg cornhole! get a hole in one to win a prize – (with up to 20 prizes to giveaway)
Big Green Egg cooking demonstrations!
Beverages to be enjoyed
Proteins to sample
Prizes to be won in-store with our Giveaway Draw (plus a special bonus giveaway for one lucky online customer unable to attend in person).
Smoked & Seared 
EGGfest

 Giveaway Draw

For EGGfest attendees, we will be giving away:
FIRST PRIZE

 - Minimax Big Green Egg Bundle

-

valued at

$1,450

SECOND PRIZE 

- Framed Inaugural Team Signed Dolphins NRL Jersey - valued at $1,395.00

THIRD PRIZE

 - Smoked BBQ Co Gift Voucher - valued at $200
To Enter 

EGGfest

 Giveaway Draw
Each visitor to our Gold Coast store on the day (21 Oct 2023) receives one free entry ticket into the EGGfest Giveaway Draw
Any

 

in-store purchase on the day (21 Oct 2023) receives five additional entry tickets into the

EGGfest Giveaway Draw

Prizes will be

 

drawn on the day
Can't Attend 

EGGfest

?
If you can't attend EGGfest in person, we have a supplementary BONUS ONLINE GIVEAWAY Draw, hand selected by Chef Trent. To enter this draw:
Any

 

online purchase of one or more Big Green Egg Accessories between 12am, 4th October 2023 and 2pm, 21st October receives one entry in the supplementary

BONUS ONLINE GIVEAWAY Draw only.

This bonus prize will be drawn on the day
We believe BBQ is meant to be shared and who better to share the BBQ Love with than our loyal and legendary customers and community! So stop by, say g'day and join in the fun, enjoy some BBQ, even win some cracking prizes!
We hope to see you there and, in the meantime,
keep the good times and smoke rollin'!
Trent, Cassie & The Smoked team
EGGfest Giveaway Draw Terms & Conditions
Conducted by: The EGGfest Giveaway is conducted by Mr Trent Barrett, Director, Smoked BBQ Co, 2082 Gold Coast Hwy. Miami QLD 4220 Australia in accordance with relevant Queensland Government regulations.
Eligibility (First, Second and Third prize draw): Any person attending EGGfest at Smoked BBQ Co's Miami store between the hours of 10am - 2pm, 21st October 2023 is eligible for the EGGfest Giveaway Draw.
Eligibility (supplementary BONUS ONLINE GIVEAWAY draw): All Australian based customers completing an online purchase of one or more Big Green Egg Accessories via the Smoked BBQ Co website during the period 12am, 4 October 2023 to 2.00pm 21 October 2023 are eligible for the supplementary BONUS ONLINE GIVEAWAY Draw (only).
Entries (First, Second and Third prize draw): Each attendee at EGGfest at Smoked BBQ Co during the hours of 10am - 2pm, 21st October 2023 can request one entry ticket. For each instore purchase during the hours of 10am - 2pm, 21st October 2023 received five additional entry tickets.
Entries (supplementary BONUS ONLINE GIVEAWAY draw): All Australian based customers completing an online purchase of one or more Big Green Egg Accessories via the Smoked BBQ Co website during the period 12am, 4 October 2023 to 2.00pm 21 October 2023 receive one supplementary BONUS ONLINE GIVEAWAY Draw ticket. There is no limit on the number of entries available.
Prizes(First, Second and Third prize draw): Three prizes (listed below) will be awarded-
FIRST PRIZE - Minimax Big Green Egg Bundle - valued at $1,450
SECOND PRISE - Framed Inaugural Team Signed Dolphins NRL Jersey - valued at $1,000
THIRD PRIZE - Smoked BBQ Co Gift Voucher - valued at $200
Closing date: The EGGfest Giveaway closes 2:00pm, Saturday 21 October 2023.
Draw date: Winners will be announced 2.30pm, Saturday 21 October 2023 at Smoked BBQ Co's EGGfest event being held at Smoked BBQ Co, 2082 Gold Coast Hwy. Miami QLD 4220 Australia.
Prize Draw Order: Prizes will be awarded from third, second to first prize.
Notification: Winners will be notified in person if in attendance and via email at the time of the Prize Draw.
Enquiries: Trent Barret, info@smiokedbbqco.com.au. Phone (07) 5572 7790