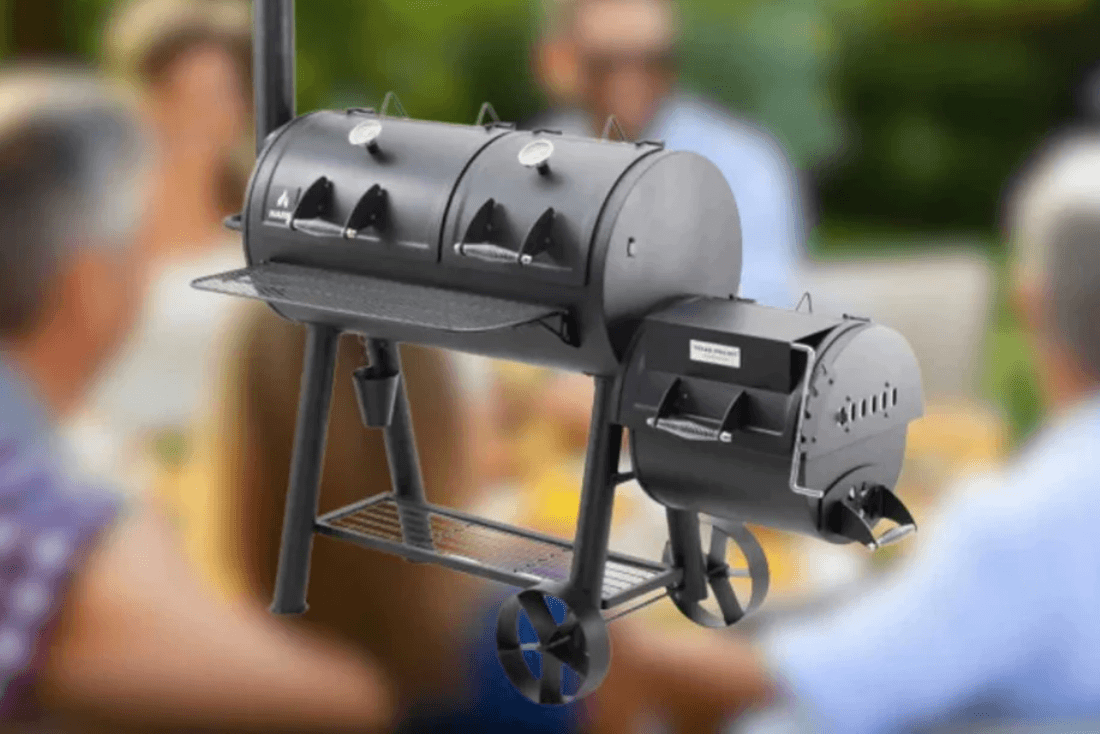 Offset Smokers - Everything you need to know
As a budding pit master, your reputation can be greatly enhanced by investing in a high-quality offset smoker. Smokers have become increasingly popular for good reason, and at Smoked BBQ Co., we offer an outstanding selection of top brands such as Hark and Stockyard and answer all your Offset smoker FAQs.
What should you look for when choosing your perfect offset smoker?
1. Temperature Gauges
Go for a brand that will allow you to measure the internal temperature of your offset smoker without having to open the lid. Make sure you get an accurate reading for greater control.
2. Sturdiness
It is one of the most significant things to look for when searching for offset smokers for sale. It must have strong legs, wheels, hinges, and latches. The smoker you choose must be durable and must be able to handle a lot of wear and tear.
3. Heavy Gauge Steel
Choose a thicker metal for higher heat retention. 3mm steel is considered to be the minimum thickness as such smokers will retain the desired heat needed to run effectively.
4. High-quality Seals & Dampers
 Quality seals are of great importance if you wish to improve smoke retention, reduce fuel usage and create greater temperature control
Who Can Use the Offset Smokers?
Anyone who has a passion for live fire cooking with charcoal and wood.

Anyone longing for the best results of smoke penetration and flavor.

Anyone who is inspired by traditional smoking methods than the modern electric ways.

Anyone who wants to produce authentic American BBQ.
Offset Smokers Frequently Asked Questions
1. How does an offset smoker work?
The components of an offset smoker include the firebox, the cooking chamber, and an additional vertical cooking chamber on some offsets. The process begins by building a fire in the firebox. The heat tends to flow out from the firebox, out the chimney, via the cooking chamber.
The device allows you to control the burn rate and the heat produced by the damper on the firebox door. The latter can also be used to fine-tune the heat in the cooking chamber.
2. Can I grill and smoke properly on an offset smoker?
Yes. Here is a plethora of ways in which you can cook on an offset smoker:
Direct Grill - You can do this by building a charcoal fire directly below the cooking grates. This enables you to grill directly over the coals. When you purchase an offset smoker, you get a grill grate for the firebox and you can even add an optional charcoal grate for creating the cooking chamber to a direct grill.
Indirect Grill -You can accomplish this by building a fire in the firebox and running the dampers toward the open position.
Smoking -This technique can be accomplished in the same way as indirect grilling. The only difference lies in the temperature that is held at or below ranging from 225 - 275 degrees Fahrenheit.
3. What is the difference between an offset smoker and a vertical or rear firebox?
While the offset smokers are fueled by a small hot fire with wood being the preferred source of both fuel and flavour, vertical and rare firebox designs are fueled by large amounts of slow-burning charcoal.
4.What types of wood should I use?
This is a very subjective question. It solely depends on the cook's taste. However, we have some useful pointers that might help you choose the right wood to set up an offset smoker for your next BBQ cook up. The wood you are planning to use should be either select hardwood, fruit or nut-bearing.
Most common choices include apple, cherry, oak, pecan and hickory. The fruit wood options will help you produce a mild flavour with a slightly sweet finish. If you want a heartier smoke flavour, the oaks, and the hardwoods like ironbark and hickory are the right choice for you. With ironbark being our preferred wood to use alongside fruit and nut woods depending on the protein being cooked.
Have More Queries? Call us at 07 55727790
At Smoked BBQ Co, our smokers boast features such as thick steel, sturdy designs, upgraded fireboxes, and ash catchers. Whatever your needs, we have the perfect smoker for you.
View our Offset Smoker collection.