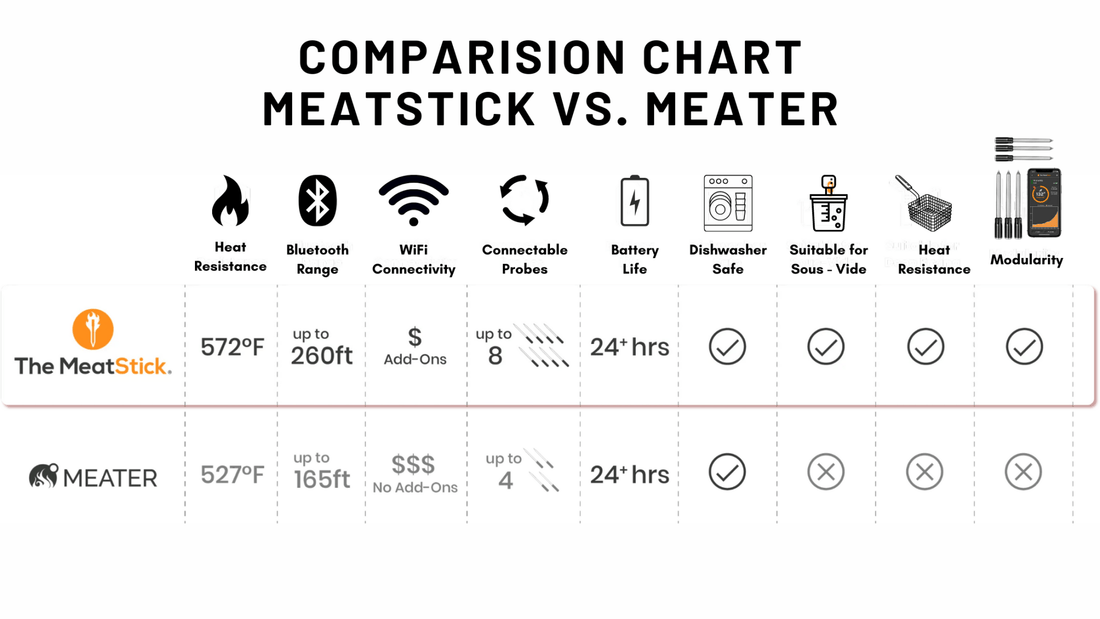 Customers keep asking why MeatStick over Meator so here are just some of the top reasons why MeatStick is the preferred choice:
Durability:
Both MeatStick and Meator are designed to take out the guesswork in cooking, but the MeatStick is the only smart meat thermometer designed for American Style BBQ.
The MeatStick measures internal temperatures up to 212°F and withstands the harshest cooking environments that other thermometers aren't built to tolerate. The MeatStick's ceramic handle withstands up to 572°F while the Meater can only withstand up to 527°F.
When you're looking for a smart meat thermometer, you want something durable and versatile to read your internal and ambient temperatures. The Meater warns against deep-frying and sous-vide, among others. The MeatStick is built to be deep-fried, sous-vide, and cleaned in a dishwasher!
Range:
The MeatStick is engineered to provide real time, accurate temperature updates on your cook along with the most stable connection. This is why each thermometer is two-point-calibrated for the utmost accuracy and paired with a built in Bluetooth repeater, extender or WiFi Bridge (sold separately) to help monitor your cook.
While Meater users seem to experience connectivity limitations with a weaker range up to 165ft, MeatStick users are monitoring their meats from most parts of their home with extended wireless range, even when the grill lid is on.
With the MeatStick, you'll actually be able to spend more time with family and friends instead of babysitting your meats.
Customization:
Meater comes in three options that cannot be used together while The MeatStick is dedicated to creating tools for the amateur cook to the most serious BBQ enthusiasts.
The MeatStick, MeatStick Mini, and WiFi Bridge were created for you to monitor up to eight Sticks versus only four with Meater. The MeatStick was designed just for American BBQ and the smaller MeatStick Mini for everyday cooking.
Unlike Meater, all the MeatStick products work together for increased synergy so you can buy only what you need when you need.
Click here to check out the full range!